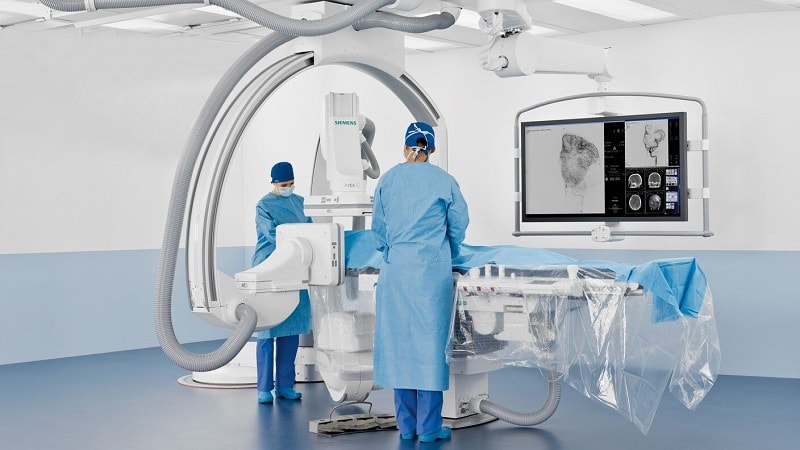 Will the new coronavirus-19 coronavirus cause a stroke?
به کووید-19 تست کرونا به عمل آید اما با توجه به تعداد بالای این بیماران و کمبود تجهیزات آزمایشگاهی این کار عملا مقدور نیست. از طرفی آزمایش‌های تشخیصی در زمان‌هایی که نیاز دارند و نمی‌توانم در مدیریت بیماران سکته مغزی از آن‌ها استفاده کنم. بنابراین باید علائمی مانند یا سندرم‌های تنفسی مانند سرفه و تنگی را در تشخیص بیماران مبتلا به ویروس کووید-19 در نظر گرفت.
Diagnostic and therapeutic measures for patients with stroke and suspected coronavirus
Patients suspected of having a stroke must have a CT scan of the brain (CT), CT angiography (CTA), and in some cases CT perfusion (CTP), according to the American Heart and Disease Association. It is best to have a separate room for CT scans of patients with suspected coronary artery and have two radiologists involved in imaging these patients. In this case, the patient is positioned by the doctor and the first technician, and then the second technician begins the CT scan imaging process.
In patients with blocked arteries, this stage can be bypassed and CT angiography performed directly. In these patients, a CT scan of the lungs should also be done to check for coronavirus. If the patient has no symptoms of pneumonia, it is considered a low-risk patient and other treatment steps are performed according to the protocol. Conversely, if a CT scan of the lung shows signs of pneumonia, the patient is considered at high risk and personal protective equipment must be used.
The angiography room is where a thrombectomy is performed. This procedure should be done in a well-ventilated room. Natural ventilation for each patient is at least 1602 liters per second. Mechanical thrombectomy is classified as a procedure that produces airborne particles. Because mechanical thrombectomy may require intubation, patients at risk for coronary artery disease should be treated with ventilation precautions.
Access to the angiography room is only allowed through one door. In front of this door, a cloth soaked in sodium hypochlorite is placed on the floor. X-ray tube and detector should be covered with a plastic cover. Many hospitals do not have all the medical equipment needed for a mechanical thrombectomy inside the angiography room. Rarely used devices are stored in out-of-room warehouses. The availability of the necessary equipment should be checked before the patient arrives.
Finally, staff must dispose of their clothing in an angiography room, and a dedicated landfill (G) must be set up near the exit door to collect contaminated waste. It is best to have a separate door for staff.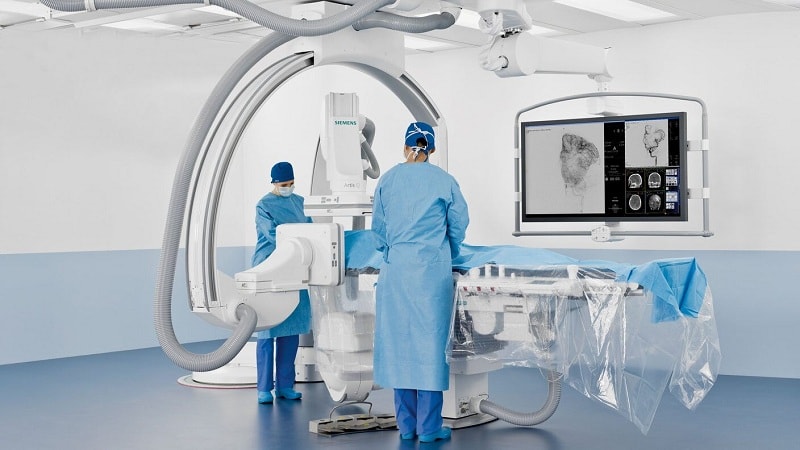 How is stroke treated during a coronavirus epidemic?
At the end of treatment for acute stroke, the patient is admitted to the intensive care unit according to the clinical condition and risk of coronavirus. In this study, two sections related to coronary and non-coronary patients were allocated for the treatment of stroke patients. One of the problems of the intensive care unit was the lack of beds.
In order to assess the condition of the stroke, the condition of the patient's middle cerebral artery (MCA) must be carefully examined. MCA blockage can lead to brain damage and swelling. This can increase intracranial pressure and eventually lead to malignant edema or cerebral hernia.
Some studies show that hemicraniotomy (DHC) reduces stroke mortality in patients under 60 years of age. DHC is a type of surgery in which part of the skull bone is split to access brain tissue. Following the outbreak of COVID-19, DHC should be evaluated on a case-by-case basis for each patient due to lack of beds in intensive care units and insufficient funding for intensive care units.